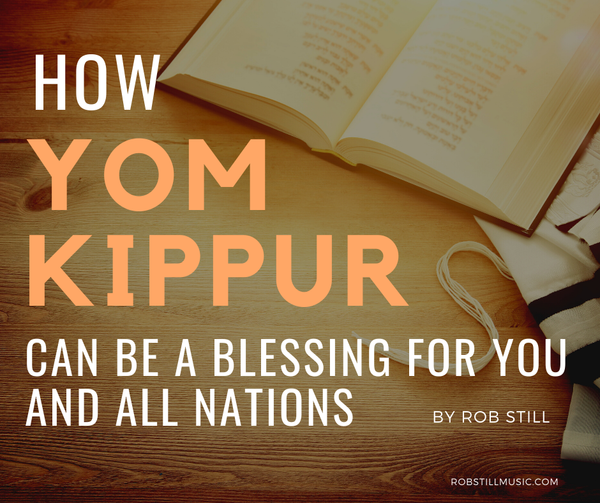 Yom Kippur is the holiest day in Judaism. It commemorates the biblical Day of Atonement described in Leviticus 16 and 23:26-32.
It is a day of fasting and prayer. On this day, the nation of Israel shuts down, all business, schools, and roads are closed. There is no travel, radio or TV broadcasts. A 25 hour fast begins at sundown on the eve of Yom Kippur (Sunday September 27) and continues until sundown September 28, 2020.  Observant Jews will spend the day in synagogue. 
On our devotional livestream for Monday September 28, I will discuss "How Yom Kippur Can Be A Blessing For You and All Nations." 
I've created an infographic with some of the key concepts. You can get yours here. 
FIVE YOM KIPPUR PRAYER SERVICE Themes that correspond to five DIMENSIONS OF THE SOUL
 Evening Prayers (Maariv) relate to Nefesh , "Spirit" pertains to physical, biological dimension of life. 
 
 Morning prayer (Shacharit) corresponds to Ruach, "Breath", the  Emotional dimension, emoting PENITENCE. 
 
 Additional Prayer (Musaf)  pertains to (Chayah)  "Life", the holy and Transcendental spiritual dimension. 
 
 Afternoon prayer (Mincha) relates to Neshamah,  "Soul" the area of the mind or Intellectual life. 
 
 Sundown Prayer (Neilah) corresponds to Yechida, the dimension of "Oneness", intimate union with Divine essence is "sealed."
The conclusion of Yom Kippur services is to declare the Shema:
Hear Oh Israel, the Lord is our God, the Lord is One. 
You shall love the lord your God with all your heart, 
with all your soul, and with all your strength. 
Deuteronomy 6:4-5